סדרת הצילומים מתעדת תחנת כוח פחמית בדלהי, רגע לפני שנהרסה ב־2014. תחנת הכוח הזו היתה אחת מהראשונות שהזמין ראש ממשלת הודו דאז, נהרו, ב־1954 – כמה שנים לאחר עצמאות הודו – בשיתוף פעולה עם ארצות הברית. תחנת הכוח היתה חלק מסדרה של פרויקטים טכנולוגיים, עתירי הון, שכללו סכרים גדולים, תעשיות פלדה ונשק, תוכניות גרעיניות ואפילו בנייה של ערים כמו־אירופיות (צ'אנדיגאר) – מודרנה שאחרי העצמאות, "מקדשים של הודו החדשה". רבים מהם נוצרו בשיתוף פעולה אמריקאי. הם סללו את הדרך על נתיבים מבוססי טכנולוגיה עבור מדינת הלאום העולה. במהלך הזמן היו לרבים מהפרויקטים האלה השפעות סביבתיות חמורות.
Can art and aesthetics spur change? Or what kind of aesthetic pursuits can prevent art from being complicit in the problem? As an artist and environmentalist, creative pursuits have been my way of negotiating a labyrinth of feelings and compelling realities. However, an artist has many paths to choose from. One could limit oneself to representing the moment through evocative forms or delve into the deeper underlying questions at stake. The resultant aesthetics reveal a political choice: it depends on the agency or compulsions one feels. Before one discusses what could be toxicity's future aesthetics modes, it is important to outline an understanding of its conceptual contours.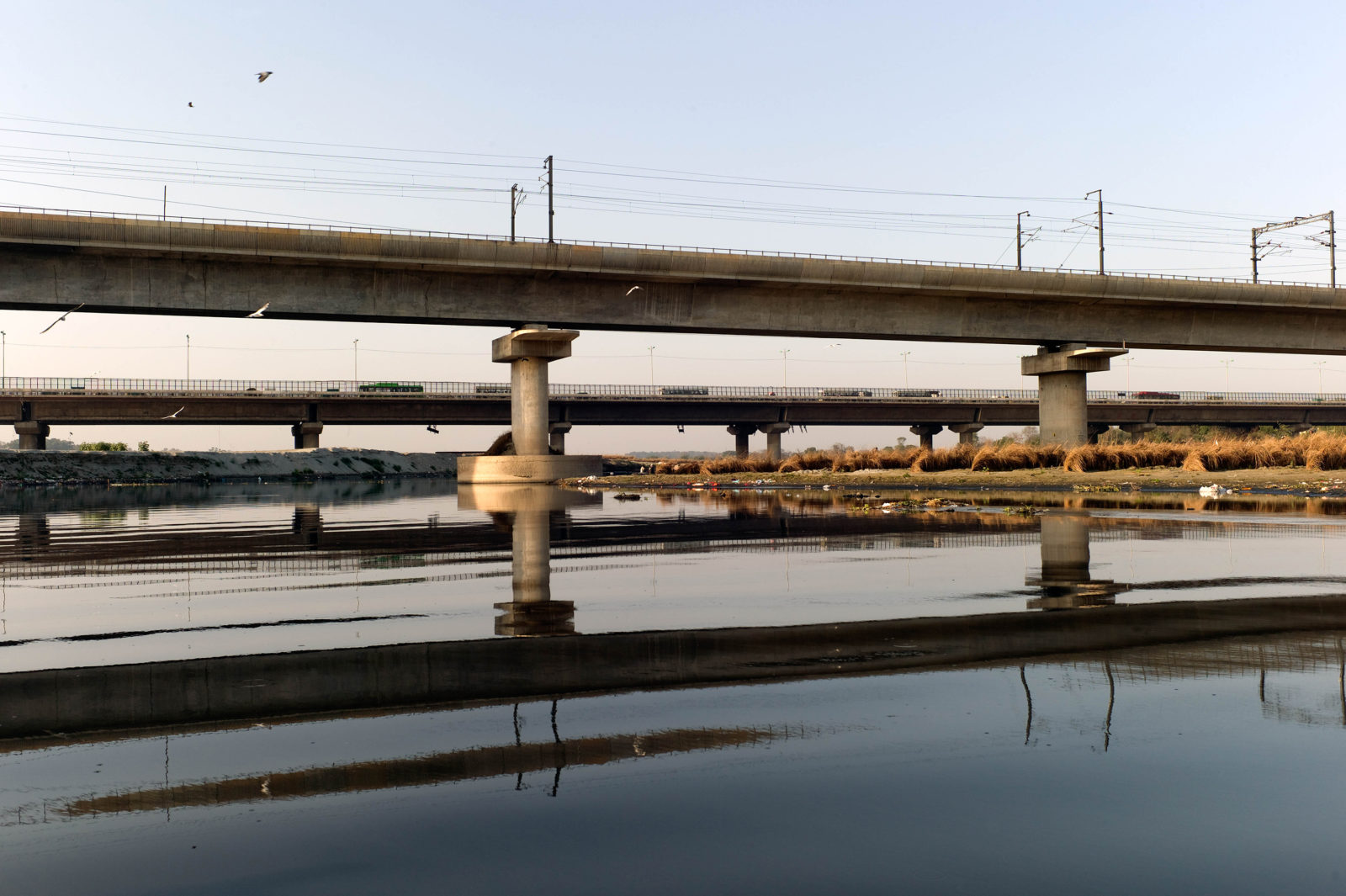 When visiting New Orleans, a context he was previously unfamiliar with but which through its complex relationship with a major river has parallels with his home of Delhi, artist and writer Ravi Agarwal found himself ruminating over two questions: how should I go there? How able am I to comprehend the context and what I might learn there? In this text, he reflects upon the shared experiences of those who live along the Mississippi in New Orleans and those who live by the Yamuna in Delhi, reciprocal relationships with nature, and the importance of listening in the Anthropocene.
Based out of New Delhi, artist, curator, writer and activist, Ravi Agarwal works to unearth the complexity of humanity's ecological and economic imagination, drawing connections between Europe and India, while comparing the implementation and impact of industrial methods.
This roundtable discussion with artist and activist Ravi Agarwal and film-maker and photographer Sanjay Kak, moderated by T J Demos, explores the politics of ecology in the Indian context. The conversation considers, among other works, Kak's film Words on Water (2002), which looks at the issue of big dams and their negative social-economic effects in the Narmada valley; and Agarwal's photographic installation Extinction, which examines the disappearance of vultures on the subcontinent owing to the development of animal pharmaceuticals used to maximize milk production. The conversation critically examines the introduction of neoliberalism in the Indian economy and political context, and the anti-democratic activity of multinational corporations, in relation to the destruction of the natural environment, the growth of economic inequality, and the dispossession of tribal peoples via the governmental-corporate development of mega-dams and industrial mining projects. The discussion revolves around the aesthetic approaches artists have used in addressing such ecological emergencies.
Despite awareness of the serious impacts of climate change, why has the consumption of natural resources remained unabated?How can awareness of these facts and a lack of action coexist? The involvement of the capitalist system in climate change has been widely recognised (Barry, 2012; Storm, 2009). An imperative of economic growth, driven by capitalism, it has pushed people to consume more and more. As a result, natural resources are depleting and the climate system has already been severely affected. This system has also created inequalities and concentrations of wealth, besides being ecologically unsustainable. Yet, it is still in force.